2012 Everglades Challenge
Tuesday, March 6, 2012
We learned something interesting when we woke up this morning... Florida mud stinks. After a reasonably comfortable nights sleep, we awoke to a somewhat disturbing discovery, instead of floating, our boat was surrounded by mud. Fortunately, I was able to pull the boat off the mud flat and back to the water with minimal effort. We were underway by 5:30AM and a nice reach across Gullivan Bay towards Indian Key Pass.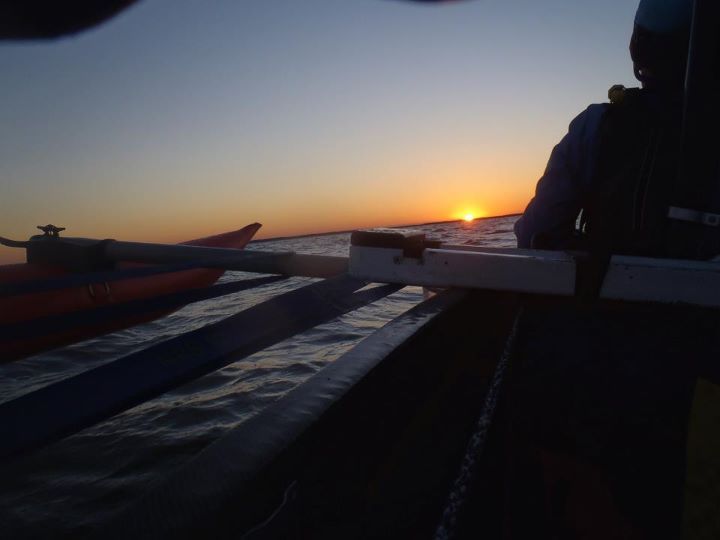 Sunrise on Gullivan Bay
We reached the pass just behind a yellow Hobie Adventure Island sailed by AhMahChamee. As we were sailing into the pass, a tour boat from Everglades City came motoring out and came to a stop directly in front of us... thanks. I'm not sure he even saw us because they were all watching a pod of dolphins swimming around. We sailed past and some of the passengers waved, I suppose we were just more wildlife :)
We eventually reached the end of the pass and as it opened up into Chokoloskee Bay we were slammed by the wind. The wind had shifted to the east at 20mph with gusts to 30. We pulled down the sail and tried to paddle but could not make any headway. The sail went back up and we did out best short tacking in the narrow channel, doing our best to avoid the very shallow areas of mud on either side. We made one last tack towards the airport, the hopped out and pulled the boat the last bit to the National Park ranger station. I got our backcountry camping permits and Em got our ice cream... mmm... Also stopping for permits were AhMahChamee, TideTraveller, and the NiteSpiritSix OC6 team.
We had three miles to go to CP2 and decided to try and sail there. The wind was still pretty intense and with the shallow water kicking up our rudder and leeboard, we just sailed into shore and paddled the rest of the way to the checkpoint on Chokoloskee Island.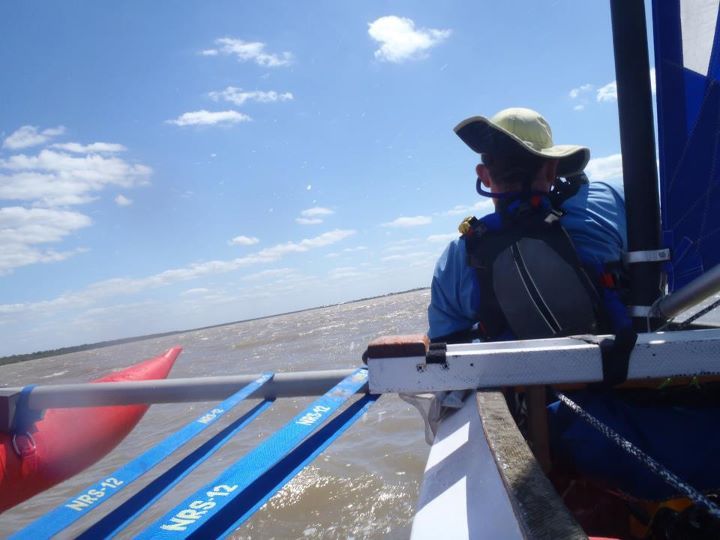 Beating upwind towards CP2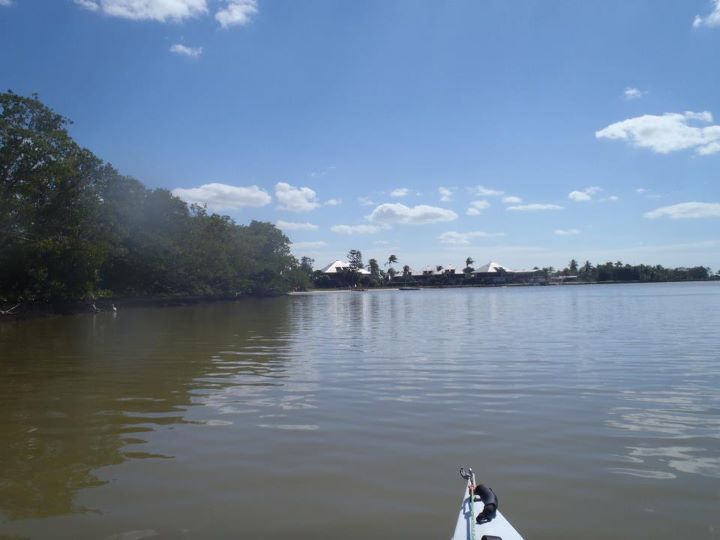 Approaching CP2
This was the point at which we switched from sailing to paddling. We were planning on taking the Wilderness Waterway through the Everglades to CP3 in Flamingo. I took the rig down and stowed it in the boat. Based on the wind and wave conditions I decided to leave one of our amas out in single outrigger configuration. While the XCR is a stable paddling canoe, we appreciated being able to concentrate 100% on providing power to the boat. Emily performed the very important task of checking us in and filling all of our water jugs.
We left CP2 at about 3:30PM with about 25 miles to paddle to our campsite at Lostman's Five. As we paddled out from behind Chokoloskee, we again faced strong headwinds. Our speed dropped to 1 to 2mph as we struggled across the eastern end of Chokoloskee Bay towards the Lopez River. As we turned out of the river into Sunday Bay, the wind began to abate. Our speed picked up some and we ticked off Sunday Bay, Oyster Bay, Huston Bay and Last Huston Bay. At this point, we were officially farther than our attempt last year, woohoo!
Between Chevelier Bay and Cannon Bay is the Darwins Place campsite. We knew that NiteSpiritSix was camped here and planned to paddle by. However, I broke my cardinal rule of nighttime travel and did not follow "the pink line" on my GPS. It seemed like it was leading us into a dead end, so we paddled away from the line. This pictures shows were we ended up paddling (red) vs where we were supposed to paddle (blue)
Overall, no great loss, but I was more than a little nervous about getting lost in the mangrove in the dark.
Next was Tarpon Bay, then Alligator Creek. This turned out to be aptly named as we saw an alligator floating by us as we paddled. Neither Emily or I were sure the other had seen it, and we didn't want to freak each other out, so we didn't say anything about it until we were out of the creek.
We crossed Alligator Bay, Dads Bay, then Plate Creek and finally Lostman's Five Bay at about 1:30AM. We set up camp and crashed.