2012 Everglades Challenge
Wednesday, March 7, 2012
Our morning began with a visit from NiteSpiritSix. Whitecaps was disappointed we didn't offer him coffee and muffins... :)
We finished our breakfast, struck camp and got underway at about 7AM.
Leaving Lostman's Five campsite
We made our way through the first few bays and creeks without incident, but things started getting difficult in a small bay south of Third Bay. The wind was again howling (~20 mph) from the east. We slowly made our way west to east across this bay, hugging the shore where possible. Things really came apart when we paddled south into the western end of Big Lostman's Bay.
The combination of high wind from the east and the large open bay caused us to be blown behind a small point of land. We took an opportunity to take a break and eat something and made an attempt to paddle back around the point. We failed to make the turn and ended up right back where we started. I though about trying to pull the boat around the point, but when I stepped out of the boat, I sank past my knees. At this point, we were extremely demoralized and decided to just sit and take a short nap. After a break, we changed our approach and made it around the point and into Big Lostman's Bay. About two miles later, we got a break from the wind in the channels leading to Rodgers River Bay, then Broad River Bay.
As we made the turn into Broad River Bay, we now had the wind at out backs. We deployed our 1M downwind sail and enjoyed a fast downwind run all the way down Broad River. At one point we hit 7mph, yeah!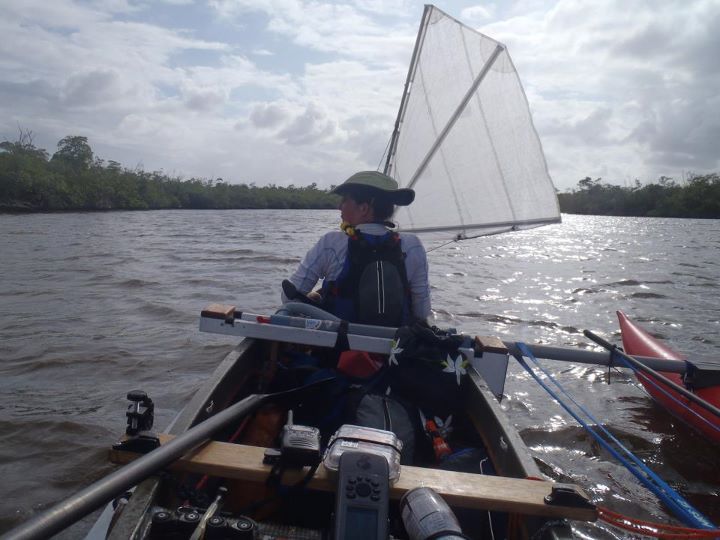 We were committed to earning an Alligator Tooth award which meant we needed to traverse the Nightmare and Broad Creek. These are not passable at low tide, which was when we were arriving. To buy ourselves some time,
we decided to stop and have some dinner at the Broad River campsite. This turned out to be a great idea because the next 8 miles would prove to be extremely challenging.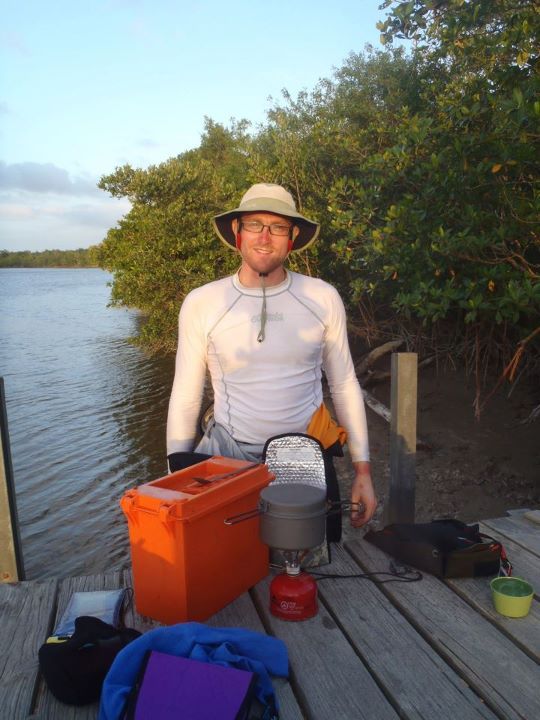 Cooking some dinner
We got back moving at about 7PM and the first few turns of "The Nightmare" were nice and open. However, things got tough quickly. I had the path plotted accurately in my GPS, so direction finding was not a problem, but lots and lots of downed trees made going difficult. Several times we needed to stop, back up, and find another path. Twice we needed to stop and wait for the tide to come up before we could get over some larger logs. We made it out of the Nightmare and into Broad Creek at about 11PM. Broad Creek starts out open but gets narrow quickly. The next couple of miles were very difficult, but we finally made it through.
Our original goal for the day was the Oyster Bay Chickee, but we were not even close. Fortunately, the Harney River Chickee was not occupied when we arrived at about 2AM. We got the boat secured, camp set up and fell immediately to sleep.